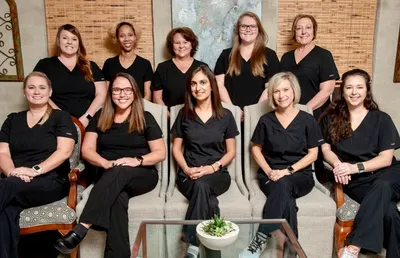 When choosing a dentist, we know that you have options. At Wilson Dental Care, our office specializes in beautifying your smile and appearance, patient education and maintaining your dental health. We're dedicated to taking care of you, and we do that in a setting that encourages not only your education but also your involvement in treatment decisions.
Here are just a few things that make our practice unique:
Our office has proudly been serving the Germantown and mid-south area since 1994. Dr. Wilson has been in practice for over 20 years. Dr. Wilson and Dr. Patel provide after hour emergency calls for our patients.
Several of our employees have been here for up to 17 years. All staff members work diligently to ensure that you receive the best care possible and are readily available to answer any questions that you might have. Our entire staff stays up to date on their continuing education requirements.
We provide an alternative to corporate dentistry and are committed to excellence.
We know each of our patients by name not just a number.
New patients are able to easily complete the new patient paperwork online prior the scheduled appointment. Once the forms are completed on our website, you can then securely submit it electronically to our office patient information system.
Adult New Patients are scheduled for an hour and a half/annual probe readings/blood pressure screenings/Oral Cancer Screenings.
We provide patient education on all aspects of oral health and how it affects your overall health.
Our staff is well versed in insurance policies and will provide information needed to help our patients understand their coverage.
Our office area features a warm and inviting reception area, state of the art equipment, and patient exam chairs with massage settings to help you remain calm and relaxed.
Located near the corner of West St. and Poplar Pike, our office is easily accessible.